The American College of Sofia joins Giving Tuesday
The American College of Sofia joins Giving Tuesday, the global movement for generosity and philanthropy. The ACS model of education exists because of generous donations from the school community of alumni, trustees, parents and friends. Because of their support, about a quarter of our student body receives financial aid for tuition reduction. To help our students and families in need, every year we fundraise and allocate close to one million dollars for tuition reduction. Please join us in our shared mission to offer outstanding educational opportunities to our students. Donate any amount you are comfortable with to the ACS need-based financial aid fund here.
Ian Yeats, Geography teacher at ACS, joins our campaign with a call to action to support the need-based financial aid fund of the school. Our students have shown resilience and determination in the face of the pandemic and the generosity of our community at this time will support and inspire them to continue the good work they are doing.
Kalina Kostova, an ACS Musical star from the Class of 2020, joins Giving Tuesday with a message for the ACS community. She highlights the importance of preserving the support system the College provides its students and alumni, an essential part of which is giving back to the community and thus ensuring the success of the current and future ACS students. 
Gergana Vassileva from the class of 1998 experienced first-hand the transformational ACS education. She has been giving back to the College by donating monthly since January 2016.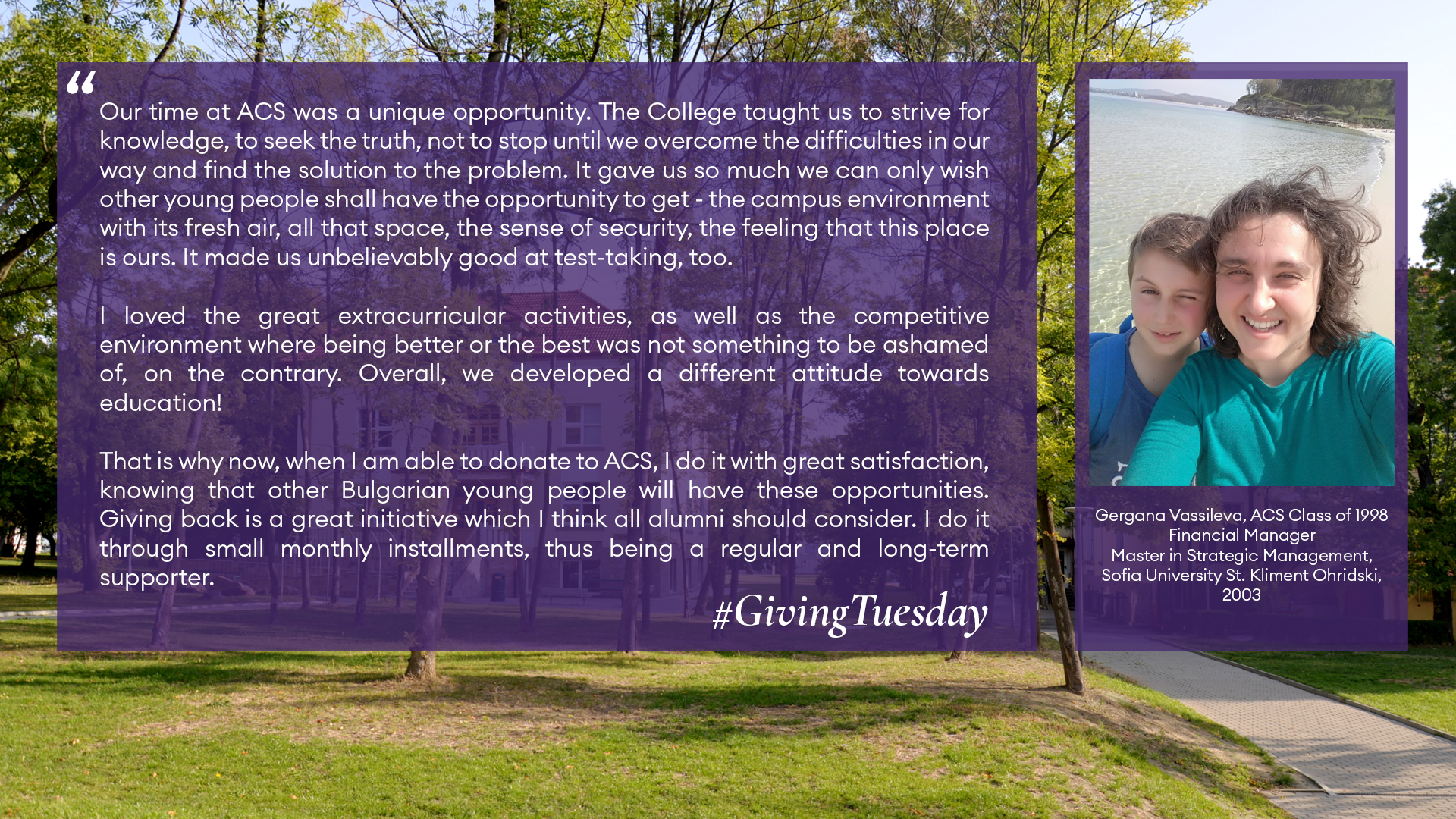 ACS Trustee since 1980 Dr. Joel Studebaker's original connections to the College came through his father-in-law, who taught English at ACS from 1938 to 1942, and through ACS President Floyd Black, whom he met in graduate school. Dr. Studebaker is among the people who believed in the College's mission even during the years the school was closed.