Students
In the current school year, the American College of Sofia has 842 students, 3% of whom are internationals.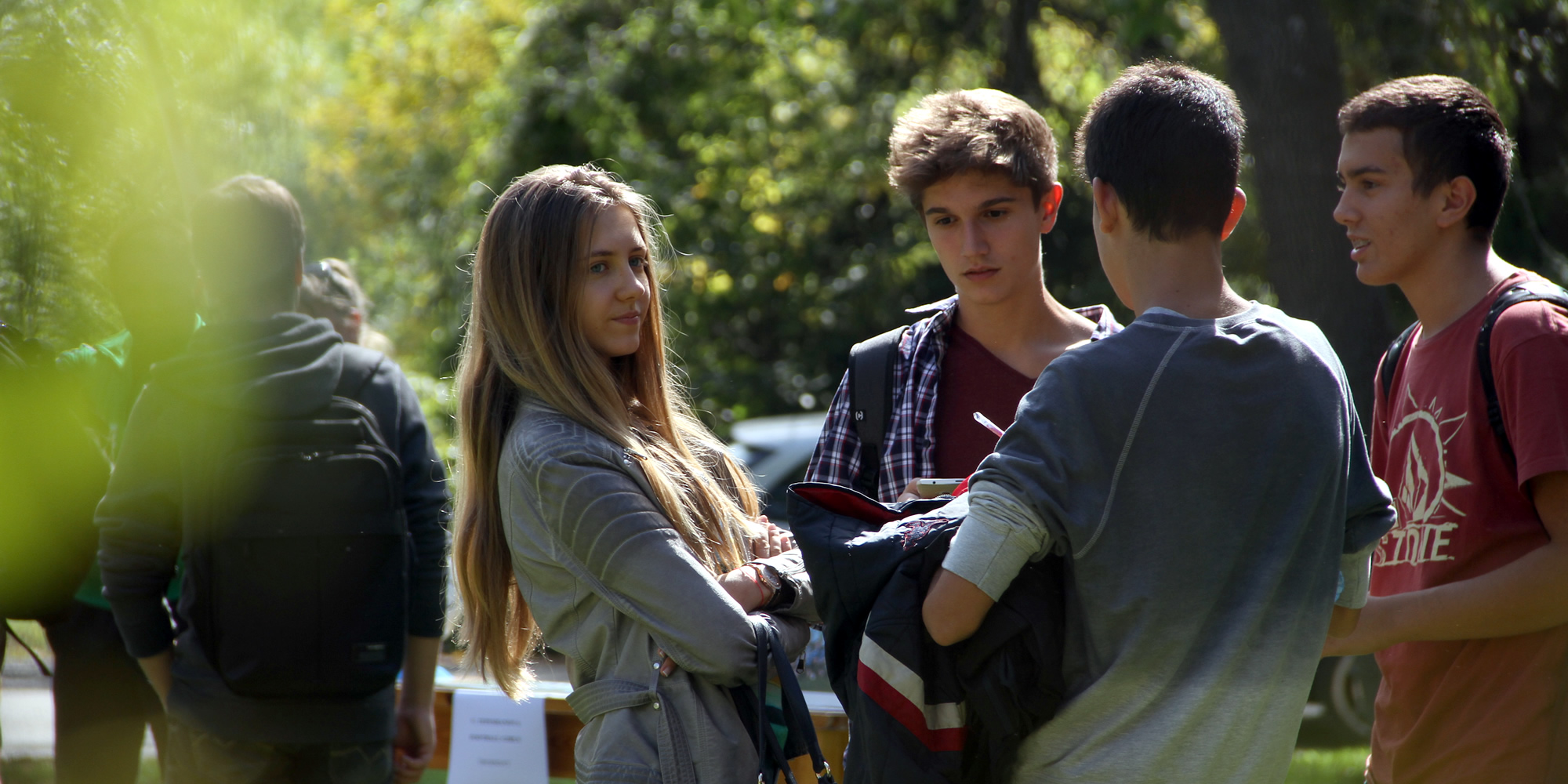 The Block System 
In an effort to make our big school feel a bit smaller to our students, to facilitate interaction of students in different grade levels, and to provide students with a comprehensive network of support, we initiated the Block System.
The student population of the College is divided into eight distinct units. Two of them are by grade level: Preps (our first-year students) and Seniors (12th grade students). Since Preps are new to the College and since Seniors will soon be leaving the College, it is best to keep students in these grade levels together.
Students in grades 9-11 are placed in one of six BLOCKS for the time they are in these grades:
Dulo
Falcons
Flaming Tigers
Golden Lions
Magma
Tangra
Each block is composed of approximately 88 students with an equal number of boys and girls. Also, there is equal representation from each of the three grade levels: 9, 10, and 11.
Support
Teachers as well are assigned to one of the grade levels and serve as advisors to groups of 9-11 students. The role of advisors is to monitor the academic, behavioral, and social progress of their advisees. They also provide support and guidance. Advisors' work is supervised by Grade Level Deans who provide additional support for both students and advisors.
Memos
Teachers and administrators may write informal memos about any student at the College to report on academic or behavioral matters. Memos are composed and distributed electronically to the student in question, the student's parents, the student's advisor, the Grade Level Dean, and the Dean of Students.
The purpose of writing memos is threefold:
1)    to identify academic and behavioral issues when they first develop;
2)    to commend academic progress or performance and to recognize positive student actions in the ACS community;
3)    to disseminate important information about our students to teachers, advisors, grade level deans, and parents.
Expectations
The American College of Sofia maintains very high behavioral and academic expectations of our students.
We do our best to provide support systems to help our students meet these expectations and to get the most out of their experience at the College.
The ACS Honor Code
The American College of Sofia learning community consists of teachers, students, administration, staff, and parents. We believe that learning is a cooperative process that involves active participation of all these members. Above all, we value the pursuit of excellence in academics and citizenship. To achieve this excellence, all members of our community must dedicate themselves to the following values:
RESPONSIBILITY: each member is accountable for his/her actions
INTEGRITY: each member is guided by honesty and truth in his/her actions
RESPECT: each member treats all others with consideration
Members of the American College of Sofia learning community are to consider themselves ambassadors of the College's values of responsibility, integrity, and respect while at school as well as outside the College.
General Expectations
All students must abide by the rules of the College which are outlined in the Student Handbook. These rules fall under four general categories:
ATTENDANCE: We believe that it is essential for students to be in class and expect all students to make every effort to attend classes. We monitor students' attendance very closely. Students who are absent from class must follow absence protocols in order for their absences to be excused. Any student who fails to follow absence protocols or exceeds the attendance limits in a given semester may be placed on Attendance Probation.
ACADEMIC HONESTY: We expect that all students will be responsible for their own academic work and that all work students submit or complete in class is their own. Students must understand the difference between helping other students and cheating. They also must understand what constitutes plagiarism. Students who are in violation of the school's academic honesty rules may be placed on Academic Honesty Probation.  
BEHAVIOR: We expect that all ACS students will abide by the behavioral rules of the College. Tobacco, alcohol, drugs, and weapons are strictly prohibited on campus. Moreover, we expect students to respect each other and the adults in the ACS community. Students who violate the school's behavior rules may be placed on Behavior Probation.
ACADEMICS: We expect all students to apply themselves to their academic work, both in school and at home. We also expect students who are struggling to seek help from their teachers during consultation periods or office hours. Students who do not maintain an overall Grade Point Average of 4.5 may be placed on Academic Probation.

Dean's Faculty Advisory Committee
Students who are in violation of any of the school's rules or expectations may be asked to appear before the Dean's Faculty Advisory Committee. The Dean's Faculty Advisory Committee is composed of six teachers elected by the ACS faculty and the three senior administrators of the school: President, Deputy Director, and Dean of Students. In addition, one non-voting student observer is present at the Committee meetings. Parents of students who appear before the Dean's Faculty Advisory Committee may also attend these meetings. 
The Dean's Faculty Advisory Committee renders all probation decisions at the American College. If students who are on probation fail to meet the terms of their probation, the Dean's Faculty Advisory Committee may decide to dismiss these students from the College. Decisions of the Dean's Faculty Advisory Committee may be appealed. 
Extracurricular Activities
The American College of Sofia has developed an extracurricular program that endeavors to create a bridge between the scholastic world of ACS students and life outside campus. The ACS extracurricular program has been designed to strongly support the concept of a holistic education, one which prepares individuals for all aspects of their lives after the College. 
The Creativity, Action, and Service (CAS) Program was implemented at ACS in 2005 and serves as a model of organizing and encouraging students to participate in various extracurricular activities. The CAS Program provides an avenue for involvement and fosters growth in areas that challenge students to be creative thinkers and actively involved members of the community. Additionally, participation in the CAS Program promotes development of skills and characteristics which may not be directly addressed within academic courses. Through the CAS Program, students develop a strong sense of community and an understanding of how they may positively and effectively impact society.
CAS projects encompass a broad range of activities, and students can join projects according to their interests, be it dance, theater, art, sports, hiking, camping, peer tutoring, community service, etc. Some of the extracurricular activities are organized in the form of clubs which meet regularly after school. Each CAS Project and club has a faculty advisor who supports the students while offering them guidelines for further development. 
As noted in the ACS Student Handbook, "All ACS students in grades 9-12 who receive the American Diploma must satisfactorily complete the yearly CAS requirements." The yearly requirement for each student in Grade 9 to 12 is 75 hours. The requirements afford students an opportunity to display long-term commitment to helping others, and demonstrate skill in reflection and self-evaluation. 
It is the hope of the American College of Sofia that active participation in CAS will, not only assist to prepare students to meet the most demanding criteria of any university, but also shape dynamic individuals who are fully prepared for success in their adult lives.