Dr. Richard T. Ewing, Jr.'s Speech Celebrating the Opening of the America for Bulgaria Campus Center
excerpt
It is my great privilege to welcome you here to this long anticipated day, the Opening of the America for Bulgaria Campus Center at the American College of Sofia.
Welcome to you one and all!
What a proud and memorable moment for all of us at the American College of Sofia and for all those who have led, supported, guided, and financed this transformational project:
- All the many generous donors from the ACS community and people who have given of their time and talent as well as their treasure: trustees, faculty & staff, families, friends, and alumni
- The America for Bulgaria Foundation
- The American Embassy
- The American Schools and Hospitals Abroad program
- The architectural, construction, and many professional companies that have worked together to produce these magnificent new and renovated facilities
- And all of you students, who with patience, understanding, good humor and determination have gone about the business of schooling while our campus has been a long term construction site.
It is my great privilege at this special occasion to offer heartfelt thanks to all of you gathered here for making this day possible.
Indeed, it has been the vision, the intelligence, the courage, and the devotion of so many men and women dedicated to fulfilling the mission and the good and great work of the American College of Sofia, that has enabled our success for the benefit of Bulgaria, for the benefit of parents, and most especially for the benefit of those students so fortunate to attend our school.
Almost two years ago, in September 2016, we stood here to celebrate the Groundbreaking for this construction project. At that time I gave a charge to the Vutov Family and to all of their colleagues at Geostroy to build us a great building that would serve as the foundation for the education and future of our students and the future of Bulgaria. We believed at the time that we had chosen a great company, and you have now proved us right. The reviews are already in from your student clients. I can tell you, they cannot wait to use these facilities. And neither can we, the faculty and staff.
So I want to take this moment to thank you and congratulate you for delivering on your promise. The fruits of you labor are here before us for all to see, and for students and educators to use for generations to come. Thank you. And congratulations.
Besides a great construction company, we had no less than four lead architects involved in significant ways in this project.  The original concept for a unifying Campus Center that would marry new ideas for educational environments with the neo-classical look of the campus was brilliant to begin with, and now it has been brilliantly executed. We have a building complex that not only fits the campus and the times, but also we believe will be enduring in both form and function.
Text continues below.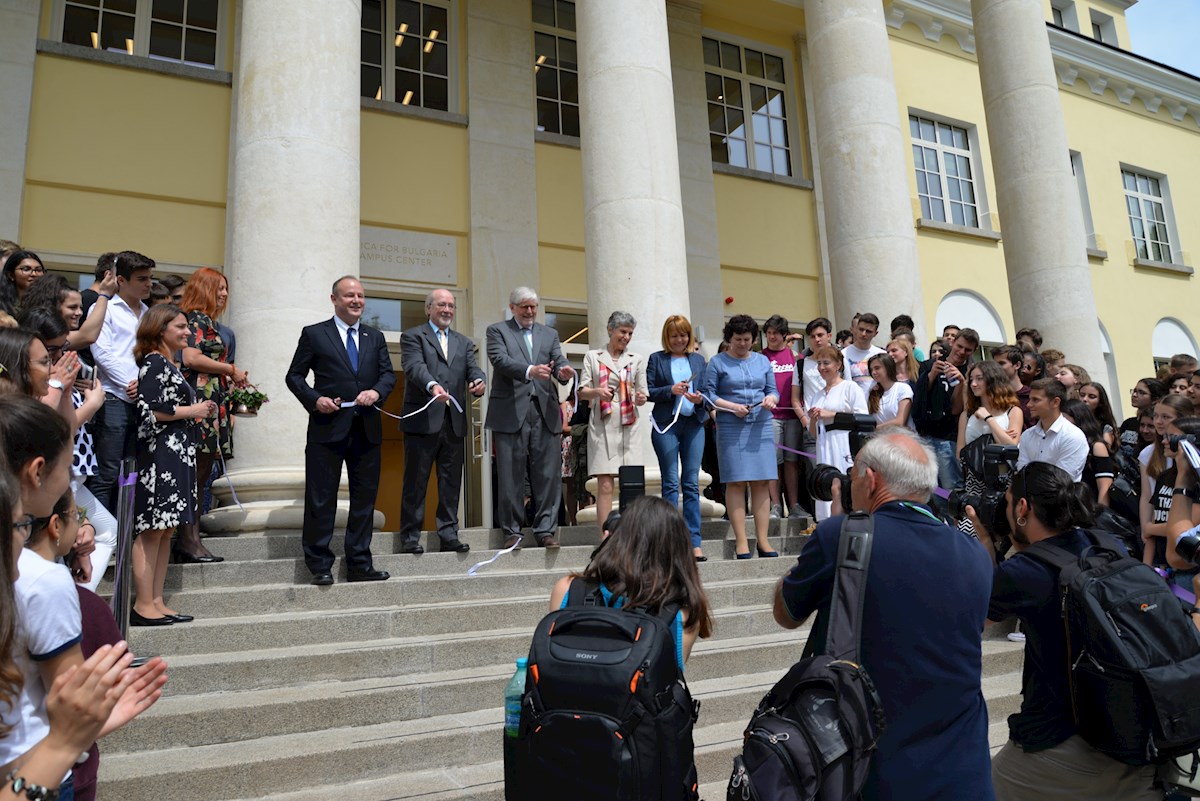 And finally this morning, I turn to all of you students, those fortunate to attend this school that so many say is the best in Bulgaria. Why do people say this? Is it because of the academics, the instruction in English, or in math and the sciences? Is it because of the extracurricular programs and clubs, the arts, the performances, the musicals, or the championship sports teams?
Many would say it is because of the values we teach here – respect, integrity, and responsibility – not to mention, community service, teamwork, perseverance, resilience, passion, and authenticity.
Values as well as scholarship are at the core of what we do at ACS: we want to produce strong people and good leaders as well as excellent students. This has been true throughout our long and also brutally interrupted history. And let us not forget, there was a time when ACS graduates lost their lives simply for having these values and believing in these ideas and ideals.
What kept the ACS flame alive during 50 years of exile and what has enabled ACS to revive and once more to thrive have been powerful forces at work that one can find at the heart of the ACS community, forces that have always shaped human destiny in the pursuit of life, liberty, and happiness. I speak of love, courage, faith, and hope.
We know from scripture the importance of faith, hope, and love… and that the greatest of these three is love. ACS exists because of love and devotion for this sacred place of learning and the people who have been part of this community.
It has also been said that courage is the value that makes all other values possible. ACS exists because of the courage of people here today and so many who have come before us.
And I speak of faith, not in a religious sense, but a moral and spiritual one. ACS exists because of the faith and trust of our community, those here now and again so many who have come before us.
And hope, well of course, hope is what has sustained all of us, the world over, in times of trouble ever since Pandora opened her box.
Together, love, courage, faith, and hope аre what have made possible the miracle of ACS's storied past and the dynamic power of our present, and they are what will sustain us going forward into the promise of our future.
There are some of us here today old enough to remember as children hearing an American President stand before his nation and the world and say: "Ask not what your country can do for you. Ask what you can do for your country."
This same idea was restated more broadly by one of President Kennedy's contemporaries, the Reverend Martin Luther King, Jr.: "Life's most persistent and urgent question" Dr. King preached "is, what are you doing for others?" And so I ask you students: In the months and years ahead at ACS; in university life; in the work and lives you pursue; what are you going to do for others?
This is what men and women from Bulgaria and men and women from America working together have done for you.  And now, what will you do?  Will you be only receivers and takers in life? Or will you be givers and rivers to your communities, as these men and women have been?
People have made this investment and this sacrifice because of what ACS and its students and graduates have already achieved.  It is the future, though, that calls out to us and offers us its challenge. So many people in the ACS community have created this gateway to the future for you. And now what happens will be in your hands, your hearts, and your minds.
We believe you will accomplish great things in the adventures that lie ahead. And we hope that the ABF Campus Center, which this community together has built, will help inspire and challenge you into a future of great service as well as great accomplishment.
Students, you are now dismissed. Enjoy the weekend.  We will be back in class on Monday.