Arts Fest 2022 is This Saturday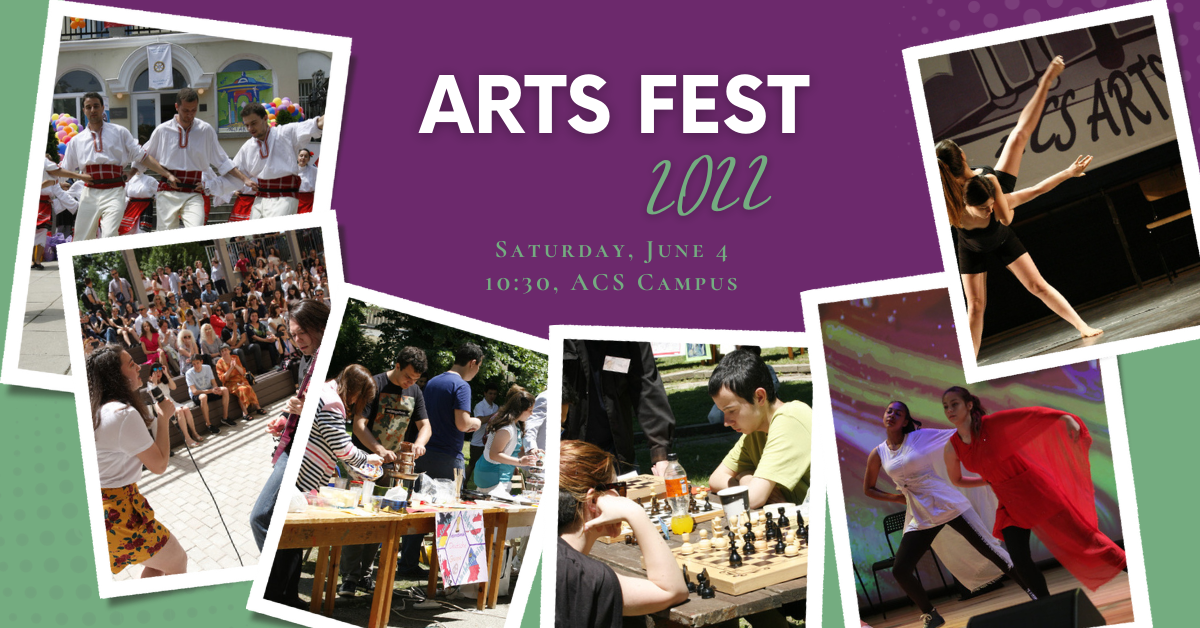 At a Glance
After a two-year hiatus, the renowned ACS Arts Fest is returning to the College campus on Saturday, June 4, starting at 10:30. Arts Fest is a tradition at the American College of Sofia that dates back to the mid-1990's. The event is a celebration of the talents, dedication and spirit of our students and faculty and showcases various aspects of life beyond the classroom at ACS at the same time raising funds for student activities and Tuition Reduction. Guests at Arts Fest enjoy food, drinks, live music, home-made goodies, ice-cream, horseback riding and more.
Clubs Stands
The Arts Fest 2022 will offer guests the chance to meet and support the College Life Newspaper, the Arts Club, The Fountain Literary and Culture Magazine, The Science Club and FISSION Festival, the First Aid, Chemistry, Time Heroes, Keep Our Planet Alive and other clubs. Their stands will be available throughout the day, so stop by, meet the students and learn about their causes.
Performing Arts Showcase
Guests at Arts Fest 2022 will get to marvel at the students in the renowned ACS Performing Arts Program. Especially for you, the students will showcase excerpts from the ACS Musical - Cats, the English Drama - Romeo and Juliet, Magic Seekers by the ACS Vocapella and Dance programs, and From the Bottom of My Teen Heart, from the Bulgarian Drama Program. Show starts at 11:15 in the Whitaker Auditorium.
And More
The Lynn & Linda Daft Open-Air Theater will be the home to an exciting musical performance by talented and seasoned student performers. Don't miss it, it starts at 1:40 PM. If you are more inclined towards literature, stop by the Literature Reading by The Fountain Magazine at 1:30 in the Gipson Library. If Balkan Dances are your thing, be ready at 1:25 in front of Sanders Hall.
Raffle
Don't miss the two Raffle Draws for a chance to win wonderful prizes by our generous sponsors! We are grateful to Sofia Film Fest, Dermal & Laser Clinic, Fisto Commerce, Grand Hotel Sofia, Playground, Technopolis, and the other individuals and companies for providing the prizes. Get your lucky raffle tickets in advance from an 8th grader or at the event.
Come Join Us: Arts Fest is on Saturday, June 4, at 10:30 on the ACS Campus!