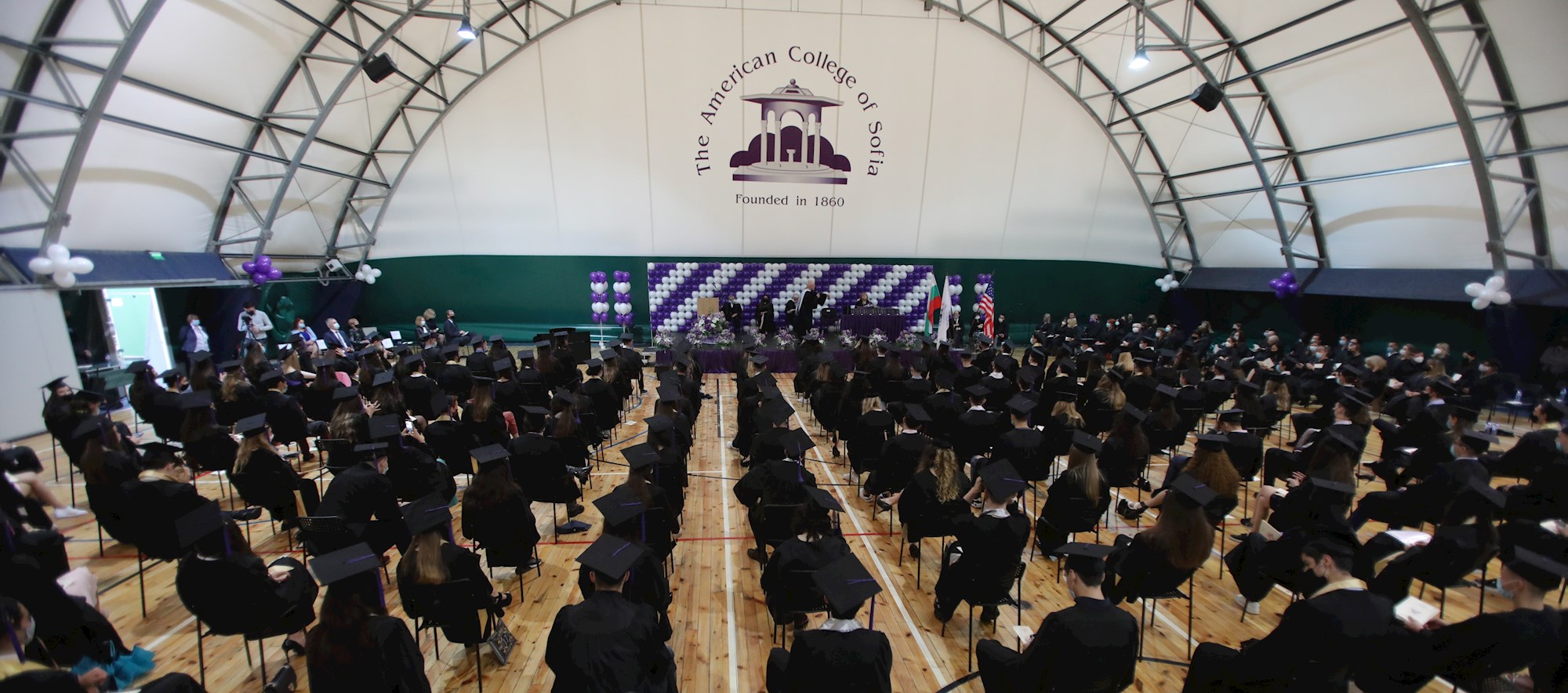 The Graduation of the ACS Class of 2021 was a celebration not just of those young leaders' grit and resilience, but also their joy, energy, and optimism – attributes that are often even more important in times of challenge.
The Class of 2021 had it tough. For their first two years at ACS, half the campus was an active construction site – with all the noise, mud, and detours it entails. Their last two years here were slammed by the pandemic. So this might be the toughest one of the 25 classes to graduate from ACS since its reopening in 1992.
The graduates who tossed their caps in the air on May 17 stayed the course, undaunted. They accomplished remarkable academic achievements: Over half of the class has earned academic distinction, а record high of 93 students. 57 graduated summa cum laude, 24 magna cum laude, and another 12 cum laude.
One of their teachers commented: "It is amazing how every year the graduates I teach leave me with the impression that they are the best and it is impossible to have better ones. And the reality of next year refutes my opinion. This class proved it again. Creative, consistent, communicative, and dedicated, they responded to all the challenges that the College presented to them, as well as the environment in which we find ourselves. To me, they are mature adults, ready to take control of their direction to follow their desires with full awareness of where and how. I wish them, with smiles on their faces, to achieve their future challenges and successes."
On Monday afternoon, heavy rain fell on the stage, seats and banners set up on the green field, so we held the ceremony in the Bubble. The site of so many sports victories, it was packed this time by family members, teachers, distinguished guests.
Sending off the graduating class on its path in life, ACS President Richard T. Ewing, Jr., said, "Do not just wish for your own good fortune, be your own good fortune. And be good fortune for the world. The world needs more strong and good people like you and all that you have to offer."
Here are some of the words that our distinguished guests had to say in celebration of the ACS Class of 2021:
Sofia Mayor Yordanka Fandukova said, "It is a great honor for me to be among you on the eve of the most exciting Bulgarian holiday, May 24, and thank you for the invitation to share your holiday. A well-deserved day in which all kinds of emotions rage. You part with your favorite school, with your amazing teachers, with your class, with your classmates. At the same time, however, it is a day of dreams, of bold dreams, of plans that I am convinced you will all accomplish because you are graduating from the American College of Sofia - the best school, not only in Sofia, but in all of Bulgaria. And, perhaps, one of the best in the entire region, with proven success over a number of years."
Ms. Evgenia Peeva-Kirova, deputy-minister of education and ACS alumna from the Class of 2004, had this to say: "The American College teaches you not just to take advantage of the opportunities that are given to you, but to constantly create them around you; to create the world you want to live in. And this is your responsibility. When you create the world you want to live in, regardless of where in the world you are, remember where you came from and when you have the opportunity, stay connected and give. I would not be here before you today if it were not for the American College of Sofia, and I wish each of you to make your dreams come true in such a way that you will be useful to yourself, your community, and the whole world."
In her inspirational speech, among many other things, H.E. Herro Mustafa, U.S. Ambassador to Bulgaria, shared this insight: "You need to live in the impossible, in order to make things possible. Set your goal high. Achieve your goal and then aim even higher. Never let anybody tell you that you can't do something."
On behalf of the President of the Republic of Bulgaria Mr. Rumen Radev, the Secretary General of the President Dimitar Stoyanov shared these words: "I salute the efforts of trustees, leadership and teachers to ensure the educational process in which quality and specifics meet world standards. The conditions created at the college for all-encompassing instruction predicate the formation of key skills and competencies in its pupils and are reflected in their excellent results at exams and Olympiads. I believe that every graduate has the ambition to build on what has been learnt, to seek opportunities, and to pursue with zeal his/her goals. I congratulate the graduates of the class of 2021 and I am certain that the knowledge acquired here will help them to move in the direction of their choice."
Ms. Theodora Konetsovska, Chair of the ACS Board of Trustees and alumna from the Class of 1997, sent this message from Boston, Massachusetts: "Today, at your wonderful celebration, I applaud you for completing five exceptional years at ACS with open minds, resilience and inspiration to excel. I am in awe of your unparalleled ability to adapt to the reality of the last 14 months. I am excited for the strong, caring and brilliant adults you have become thanks to yourselves, to each other, to your faculty and to your families. And tomorrow looks even more exciting. You are ACS graduates – as Frank Sinatra said, if you can make it here, you can make it anywhere! I already look forward to seeing your successes beyond this campus and will be cheering you on. I am excited to be welcoming you into our wonderful and truly global alumni community as alumni class of 2021!"
Mr. Valentin Georgiev, Secretary General of the Constitutional Court of the Republic of Bulgaria and ACS trustee, fired up the audience and had them rise up in an energetic shout-out of gratitude to the teachers and parents in attendance.
Among other things, sports legend Jordan Jovtchev, keynote speaker at the ceremony, said this: "I would like to congratulate you for having already achieved part of your goals in life. I'm sure this is just one of the small chapters ahead you are going to take. You are probably anxious about the next one in the future, and definitely you will have a lot of difficult moments, you will have a lot of challenges in life. But remember that you have already achieved a lot and you have amazing skills, assured by all those teachers that you already congratulated. Thank them, and thank your parents that supported you so that you can become great students."
With his trademark eloquence, ACS President Richard, T. Ewing, Jr., summarized the journey of the Class of 2021, "It has been a privilege and pleasure to see you, our seniors, transform yourselves from that excited group of boys and girls that arrived with such promise on the steps of Sanders Hall in September 2016 into the impressive and accomplished young people we honor today. Normally, the trials and tribulations of adolescence are quite enough to keep life interesting at your age, especially while trying to pursue the demanding educational program here at ACS. All of you have gotten an extra dose of what it is to live in interesting times. I salute you all for your perseverance and your resilience through these experiences, and I salute you for your leadership, spirit, and sense of grace."
On behalf of the ACS alumni, Mr. Kalin Dimchev, Microsoft Country and Regional Manager and member of the Class of 1998, offered advice: "First, believe in yourself. Starting a company, joining a big corporation, or just following your dream job. Your success depends on you. Second: think big. Love your country, but think globally, and beyond our planet. Robots are already on Mars. What is next, it is up to you. And, finally, share your basic values, taught at the American College of Sofia. Promotion of diversity and inclusion. Caring and supporting, being your authentic self, are the aspects of human nature that make you a better person, that make you curious and innovative. All these will be the building blocks of your life, your career, your success in anything you approach."
Congratulations to the wonderful Class of 2021!